Aged just 34, Alessandro Dudech has grown up at Uniqlo, where he started as a graduate trainee and is now charged with making the Japanese clothing retailer a British household name.
The Italian only took on the position as head of Uniqlo's UK business a year ago, just as the pandemic began to ease, but has already opened three stores – including London outlets in Battersea and Regent Street – and is keen to keep up the pace. The pandemic also raised the profile of Uniqlo online, driving demand for home deliveries and sign-ups to its app.
"My dream is to make Uniqlo part of British infrastructure," says Dudech, who started out in retail 14 years ago, working as a "model" in a branch of Abercrombie & Fitch in Italy.
Uniqlo has said it wants to open 30 more outlets a year across Europe – a big leap from its current 67 – and the UK, where there are currently 17 branches, will have a part to play in that ambition.
Dudech's aim is to capitalise on a fashion moment for the Japanese brand, which has clocked up a string of viral products. One star item has been the banana-shaped "round mini", which has become Uniqlo's bestselling bag of all time. Lauded online as "the Mary Poppins carryall", it has sold out seven times in the past 18 months, according to the company.
Other hits have included its pleated wide-leg work trousers, which cost just under £35, and a sleeveless T-shirt with integrated bra. Sales of the group's HeatTech thermal undergarments also boomed over the winter, when the UK sought ways to stay warm in the cost of living crisis without putting the heating on. "We reached record heights in terms of demand," says Dudech.
Uniqlo has not used celebrities or paid influencers to endorse these bestsellers – their popularity has been driven by user-generated content. The round mini bag began its trip to stardom on TikTok before Uniqlo's European business – whose typical customer is over 30 – even had an account on the social media platform, which is more the domain of those in their teens and 20s.
It's a new twist for a brand that originated as a local family business in Japan. Its founder, Tadashi Yanai, now Uniqlo's president and chief executive, grew up around his father's retail store and joined the family business after university in 1974. Ten years later he opened his own store, the first Uniqlo, in Hiroshima. Then in 1998, a watershed year, the brand won over Japan's shoppers with its versatile and affordable fleece tops.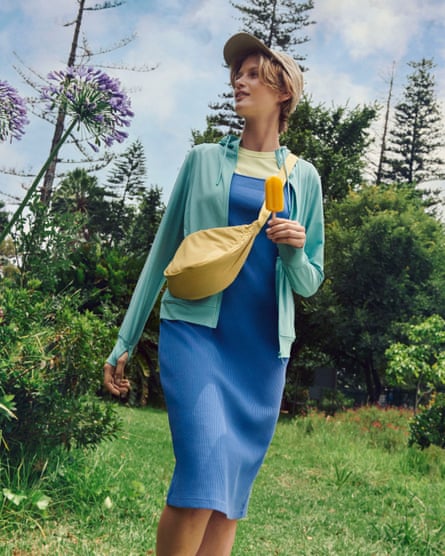 In a message accompanying the latest accounts from Uniqlo's parent company, Fast Retailing, Yanai said: "The opening of our first urban store in Tokyo in November of [1998] generated a 'Uniqlo fever'. We are now experiencing a similar breakthrough in Europe."
However, despite the string of products winning hearts on social media, Uniqlo has been slow to break through in the UK, where it opened its first overseas store, in London, in 2001. It currently has less than 1% of the UK's clothing market, according to the retail market analyst GlobalData.
Last year, Uniqlo's European business bounced back from a difficult pandemic, logging a 52% rise in sales to €963m (£836m) and a near €110m profit after a €31m loss the year before, according to filings at Companies House. Building on that is a big challenge for Dudech, who is a relatively young retail boss.
Brought up in Bergamo near Milan, his first job in the industry was as a "model" for Abercrombie & Fitch – working in the American brand's Milan store while a student. He studied economics and management at university in Milan before heading to business school in Paris. From there he was snapped up by Uniqlo's graduate recruitment programme in 2012 and sent off to London – then the group's only European market.
After about a year doing shifts on the shop floor in the Oxford Street branch – learning to fold garments and work the till and acquiring management skills – he was installed as the store manager in Wandsworth, south London, Uniqlo's smallest store anywhere at the time.
He clearly impressed, as within a few years he was an area manager in Berlin. In 2019, Dudech returned to his home city of Milan to lead the opening of Uniqlo's first Italian store. "That had been my dream when I joined the company," he says.
Now he wants to tempt Uniqlo's younger online fans into UK stores with services and showmanship that you can't order up from the sofa. A new store opening in Covent Garden in the centre of the capital this week includes a coffee shop, T-shirt personalisation service and florist.
It also features a "Re.Uniqlo" studio, where shoppers can have items mended or re-made, or bring in unwanted clothes for recycling. The first of these launched in the UK on London's Regent Street last year and the company intends to have one in every store in the country by the end of 2024.
"It is an integral part of the value proposition in Uniqlo," says Dudech. "The clothing we make lasts longer, and when something happens to it you can be confident you can bring it back and mend it."
The retailer already had the basic infrastructure – a sewing machine and someone trained to use it – in every UK branch, as it has offered alterations, such as shortening trousers or skirts, for a while. Now more staff have been trained in more complex techniques such as embroidery or the Japanese art of sashiko – mending using patterned stitches.
"It's obviously something that customers want," says Dudech. "We are trying to provide products that you can be confident in and proud of. We want product that don't go out of fashion and you can wear this year and afterwards."
He sees Re.Uniqlo as part of a feedback system which will improve Uniqlo's products and build loyal fans, as encouraging shoppers to bring back worn items helps the company identify recurring problems.
Uniqlo is also using QR codes beside product displays to enable shoppers to give reviews of items, to help with product updates. If any significant change is made, the company can then post a notice by the products outlining how it has responded. One example has been adding more natural fibres to its HeatTech range.
"Customers are becoming very eager to share their feedback and staff are told to be proactive in asking for it," Dudech says. "Customers are more sensitive than ever about value of what they purchase," he adds, suggesting Uniqlo has the tools to satisfy that requirement.