1. It's stimulates hair growth
imagesource: MEN
If you're a TikTok user, then you'll have probably seen this stuff on there recently! If you massage rosemary oil into the scalp to promote hair growth and combat hair loss, rosemary oil is full of antimicrobial properties which maintain a health scalp environment.

2. Enhances memory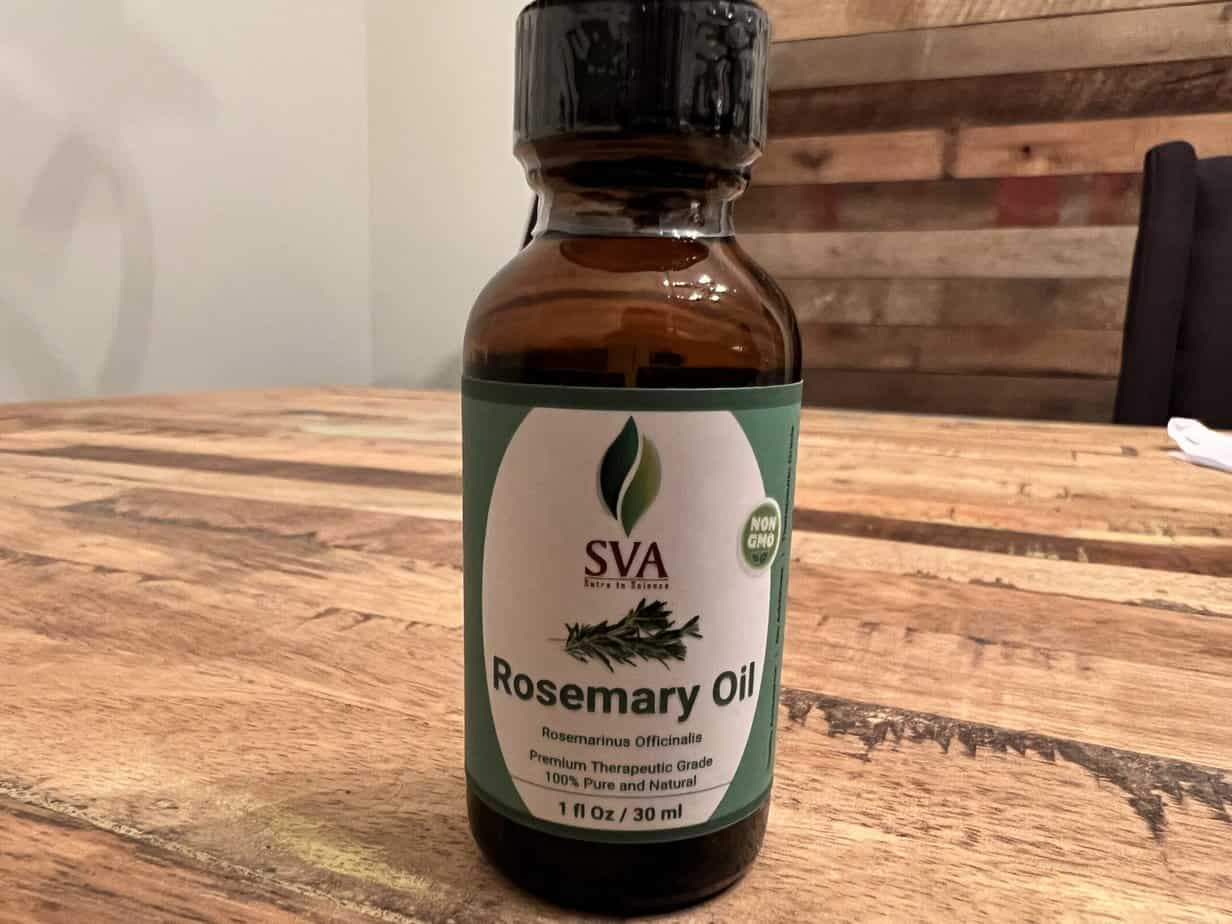 imagesource: curlcentric
Inhaling rosemary oil may enhance cognitive performance and improve memory retention. The effects of rosemary oil are still being studied but many studies do show that the use of rosemary oil inhibits the breakdown of acetylcholine, leading to increased levels in the brain.

3. It can be used as a respiratory aid

imagesource: theoilywitch
Diffuse rosemary oil or apply it topically to the chest to help alleviate respiratory congestion. Inhalation of rosemary oil is believed to have a relaxing effect on the muscles of the respiratory system which helps ease breathing and help with the overall respiratory comfort.

4. It provides digestive support
imagesource: essentialadditives
If you massage diluted rosemary oil onto the abdomen it's been proven to ease digestive discomfort and promote healthy digestion. Rosemary oil has carminative properties which means it helps to relieve gas and bloating and helps protect your liver from any damage caused by toxins or inflammation.

5. Wound healer

imagesource: reddit
Rosemary oil contains compounds with anti-inflammatory properties that can help reduce inflammation and inflammation is a natural response to tissue injury, but excessive or prolonged inflammation can delay wound healing. By diluting Rosemary oil, you can really help heal a wound quicker.

6. Nail strengthener
imagesource: reddit
The antioxidants found in rosemary oil help protect the nails from damage caused by free radicals. Mix rosemary oil with a carrier oil and apply it to the nails to promote strength and growth and over a few weeks you may begin to notice a change in the strength of your nails.
7. Mental clarity
imagesource: reddit
The aroma of rosemary oil has been shown to have stress-reducing effects. High levels of stress and anxiety can impact cognitive function and mental clarity. So diffuse some rosemary oil in your workspace or study area to enhance mental focus and concentration. Voila!

8. It neutralizes odors
imagesource: reddit
Rosemary oil can have quite a refreshing scent which can help neutralise any odors in the room. The volatile compounds in the oil can bind to odor molecules and neutralize them, effectively reducing or eliminating the smell. Get rid of those stinky odors!
9. Headache relief
imagesource: reddit
Rosemary oil contains compounds that have analgesic properties, meaning they can help reduce pain. Massage diluted rosemary oil onto temples and forehead to help alleviate tension headaches – this will sooth effect on the nerves and provide relief from headache discomfort.
10. Immune booster
imagesource: reddit
Vitamins are always a good idea and rosemary oil is bursting with them. Vitamin C, A and Iron. Inhale rosemary oil or use it in a diffuser to support a healthy immune system – this will support the production and activity of immune cells and promotes good immune responses.

11. It can be used as an anti-fungal treatment
imagesource: reddit
Apply rosemary oil topically to combat fungal infections, such as athlete's foot. Fungal infections can trigger an inflammatory response in the body which rosemary oil helps reduce by providing relief from discomfort and supporting the healing process.

12. Joint and muscle pain relief
imagesource: reddit
Mix rosemary oil with a carrier oil and massage it onto sore muscles or joints for relief. The aroma from the oil has relaxant effects and the compounds found in rosemary oil have also been found to interact with pain receptors in the body.
13. Natural insect repellent

imagesource: reddit
As we all know, insects don't like strong aromas and the distinct odor can mask the attractant odors that insects are drawn to, making it less likely for them to approach. The insects are repelled by the scent of rosemary oil, helping to deter them from landing on the skin or surfaces.
14. Toner for your skin
imagesource: reddit
Mix rosemary oil with witch hazel and use it as a facial toner to balance the skin's pH and tighten pores. However, some people may be more sensitive to essential oils, including rosemary oil so prolonged or excessive use of rosemary oil may not be a good thing, always ease yourself in using new products.
15. It has antiseptic properties
imagesource: reddit
Use diluted rosemary oil to clean and disinfect minor wounds or cuts because the oil contains compounds, like camphor, 1,8-cineole (eucalyptol), and terpinen-4-ol, which possess antimicrobial activity. These properties are what makes rosemary oil effective against certain bacteria, viruses, and fungi.
16. Anti-anxiety aid
imagesource: reddit
Rosemary oil possesses antioxidants as we already know, that can help protect the body against oxidative stress. Oxidative stress is associated with anxiety and mood disorders, so all of the the antioxidant properties of rosemary oil can play a role in promoting overall mental well-being – reducing your anxiety.
17. It provides allergy relief
imagesource: reddit
Are you somebody who suffers with allergies? Rosemary oil contains compounds with anti-inflammatory properties, such as rosmarinic acid. This anti-inflammatory properties of rosemary oil may help reduce inflammation and alleviate symptoms like nasal congestion, sneezing and itching.
18. Cold sore treatment
imagesource: reddit
The application of rosemary oil to cold sores can provide a soothing and cooling sensation which helps with the discomfort and itching. It can also help stop the spread of the virus and reduce the duration of your cold sores – so if you suffer from the HSV virus rosemary oil could help.
19. Natural deodorant
imagesource: reddit
Mix rosemary oil with a carrier oil or shea butter and apply it as a chemical-free deodorant. The antimicrobial effects help promote skin health and leave a soothing sensation to the underarm area. Just remember that every person reacts differently so be sure to ease yourself into use.
20. Mood enhancer
imagesource: reddit
The invigorating and stimulating properties of rosemary oil can help combat fatigue, boost energy levels, and uplift the spirits. This can be particularly beneficial when experiencing low moods or lethargy and in turn be a REAL mood booster.
21. Scalp conditioner
imagesource: reddit
Some studies suggest that rosemary oil may have the potential to promote hair strength and thickness. It may help strengthen the hair shaft, reduce breakage, and enhance the overall appearance of the hair. Add a few drops of rosemary oil to your shampoo or conditioner to nourish the scalp and improve hair health.
22. Antioxidant boost
imagesource: reddit
Incorporate rosemary oil into your skincare routine to benefit from its antioxidant properties. The antioxidants in rosemary oil can also help protect DNA from oxidative damage and by protecting your DNA, it protects your overall cellular health. Winner, winner!
23. Acne treatment
imagesource: reddit
If you're somebody who suffers or has suffered with acne then try to apply diluted rosemary oil to the acne-prone areas to help reduce inflammation and promote clearer skin. Rosemary oil has wound healing properties that will aid in reducing the appearance of acne scars and promotes skin regeneration.
24. Foot soak
imagesource: yahoosportuk
The warm water used in a foot soak, combined with the stimulating properties of rosemary oil, can help improve blood circulation in the feet. Better circulation can promote relaxation, reduce swelling, and nourish the tissues in the feet.
25. Enhances relaxation & helps with meditation
imagesource: reddit
Rosemary oil is believed to enhance mental clarity and focus. By promoting a clear and alert state of mind, it can support meditation practices that require concentration and mindfulness. Meditation is also a great help for anxiety as well.
26. Sinus relief
imagesource: reddit
Inhale rosemary oil or use it in a steam inhalation to clear sinus congestion and promote easier breathing. The antimicrobial compounds found in rosemary oil helps fight against respiratory infections by inhibiting the growth of bacteria or viruses.
27. Homemade toothpaste
imagesource: reddit
While homemade toothpaste can be a natural option, it's advisable to consult with a dental professional for personalized oral care advice. The anti-inflammatory properties that may help reduce gum inflammation and swelling which support the overall health of your gums.
28. Anti-cellulite treatment

imagesource: reddit
Rosemary oil stimulates circulation and promotes the flow of nutrients and oxygen in your skin. It also has properties that support lymphatic drainage which removes any toxins from your body which contribute to the appearance of cellulite in your body.

29. Immune support
imagesource: reddit
This potent oil has been associated with immune-boosting properties and although we don't know it's full effects or fully understand how much it can help us, we do know that it can support immune function by reducing oxidative stress and inflammation in the body.
30. Digestive support
imagesource: reddit
Add a few drops of rosemary oil to a diffuser or a bowl of hot water. Inhale the aromatic steam to stimulate digestion and ease digestive discomfort. By stimulating the production of enzymes this will promote a healthy gut and help alleviate any digestive discomfort.